The Japanese publisher famous for popular games like Final Fantasy, Kingdom Hearts, Tomb Raiders, and more has decided to sell three studios and IPs to fund their NFT and blockchain-based games endeavors.
Fast Takes:
Square Enix is selling IP and game studios to Embracer Group for a net of $300 million.
These funds will aid the publisher's goals of developing blockchain-based games.
In January, Square Enix president, Yosuke Matsuda, announced the company's interest and the direction it wants to take with a major emphasis on blockchain gaming.
In a New Year's Letter– "I see 2021 not only as 'Metaverse: Year One,' but also as 'NFTs: Year One,' given that it was a year in which NFTs were met with a great deal of enthusiasm by a rapidly expanding user base"
Prior to 2020, Square Enix invested $2 million in a round of funding for Ethereum based metaverse game, The Sandbox. The Sandbox is a VR experience where people can interact with other gamers and creators on digital land filled with themes and unique experiences.
In March, SE is planning to bring the classic game Dungeon Siege property into The Sandbox. Square Enix has plans to launch its NFT collectibles and NFT-powered games thanks to the success of their NFT trading card sales based on Shi-San-Sei Million Arthur in Japan in March.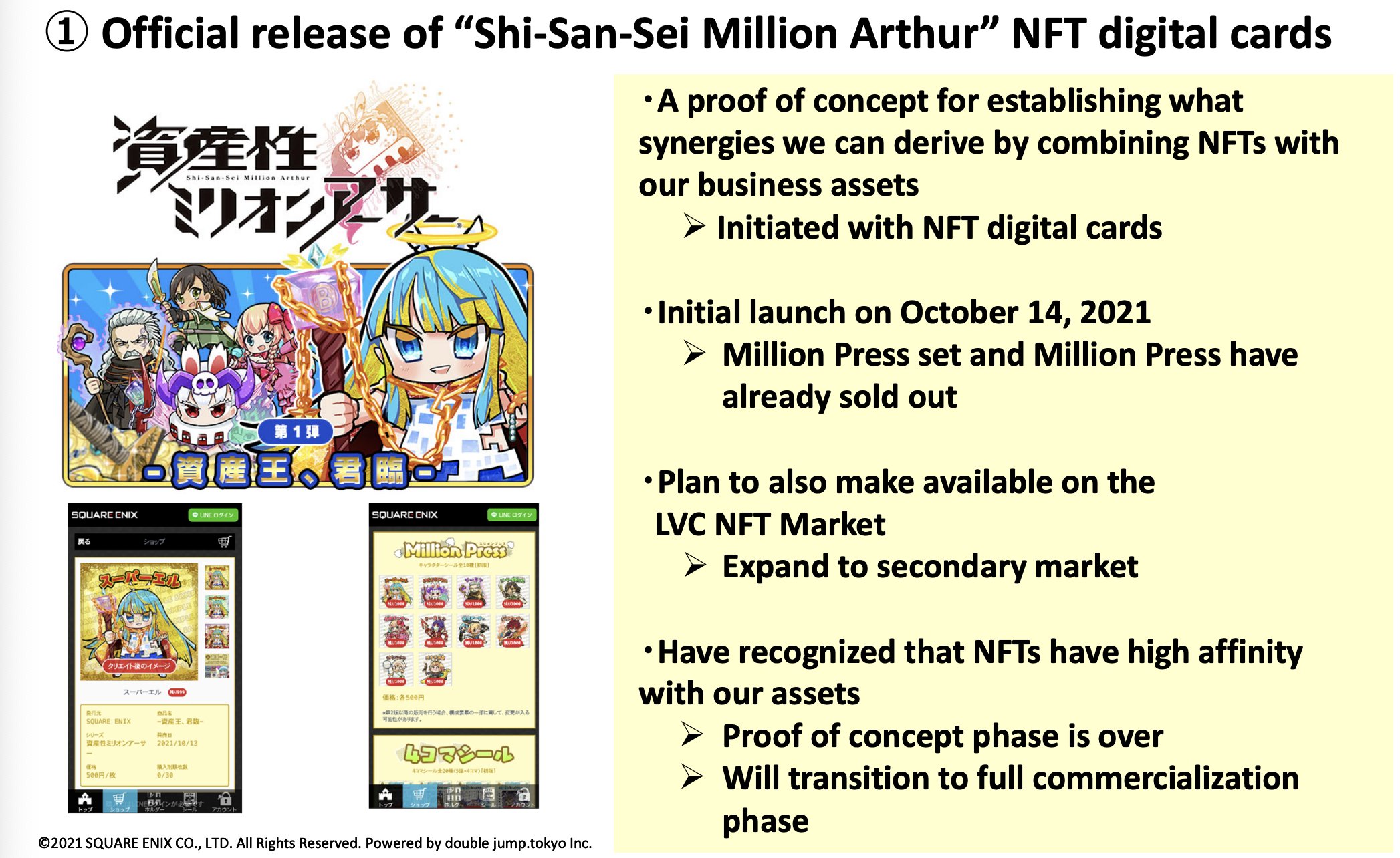 The company has decided to transfer the primary assets to Sweden-based Embracer Group – the following subsidiaries; Crystal Dynamics, INC: EIDOS Interactive Corp and IPs; Tomb Raider, Deus Ex, Thief, and Legacy of Kain.
The Embracer Group committed to pay $300 million to Square Enix in the transaction of the aforementioned IPs and studios. Currently, the studio is a staff of 1,100 people.
Square Enix mentioned that is it adapting to the changes in the global business and wants to be at the forefront of blockchain gaming. It will continue to publish beloved and long-running Japanese IPs like Final Fantasy, Kingdom Hearts ( in collaboration with Disney), Dragon Quest, Nier series, Just Cause, Life is Strange and many mobile games but will reassess where funding and resource will be better distributed with the result of sales.
Embracer Group was formerly named Nordic Games and THQ Nordic has become household names thanks to games like Borderlands based on the Dark Horse Comics of the same name. The Swedish publisher will now take over the rights to more than 50 past games from the Square Enix transfer.
Square Enix isn't alone in the interest of moving to the metaverse, game publisher Ubisoft has also participated with their own NFT launch in partnership with Tezos blockchain. However, they had a huge backlash from fans with caused them to pause with the current plan and regroup on how to move forward. Many AAA gamers view NFT as a scam for companies to early easy revenue with no real utilities or smart implementation. Some expert has pointed out that console games are already a small market compared to the mobile market and blockchain could be the future that will encompass everything, leading game companies to be proactively looking ahead.